I want you to know how easy and inexpensive it is to make your own vanilla extract at home. I also want you to know that this recipe is "perpetual" which means you basically top it off and it can last FOREVER. Well, I haven't tested forever out yet, but this continuous process preserves the vanilla beans for years and years to come to consistently create more.
So once you combine two ingredients, a container, and patience/love…you can forget buying vanilla extract at the store for the next decade or lifetime, if you wish.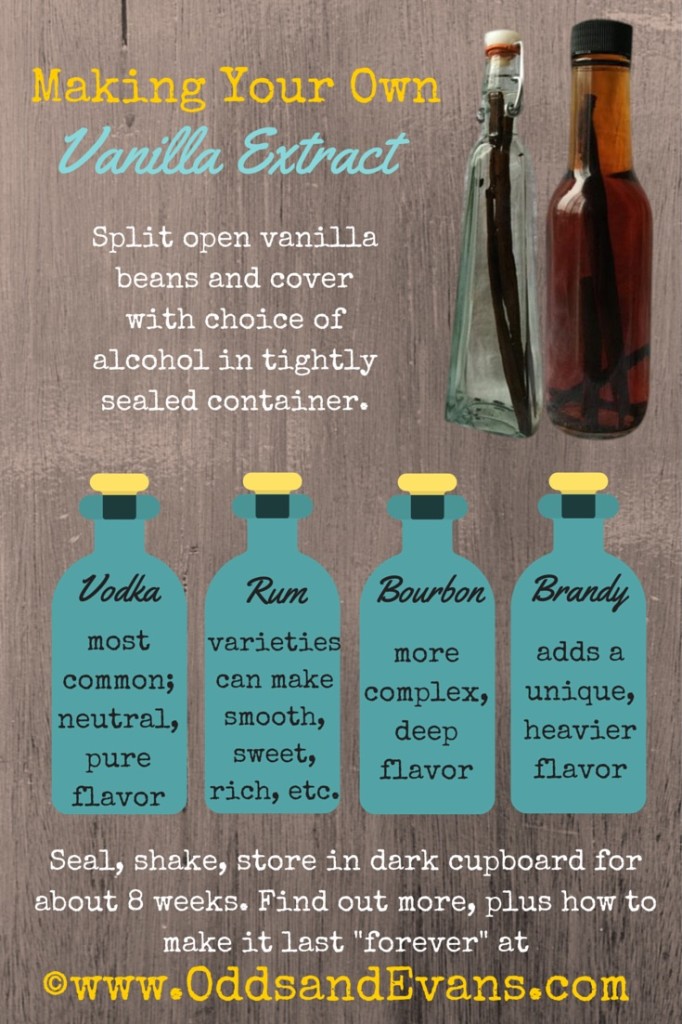 Vanilla extract is basically a tincture of vanilla beans in food-grade spirits. Vodka and bourbon are usually the main liquors used and unfortunately these days, it can be difficult to find these liquors made from non-GMO crops. Not to mention store-bought vanilla extracts are often quite pricey and contain many unnecessary flavorings and corn syrup. Most importantly though, making your own simply produces a better tasting vanilla extract. My guess is that 'love' ingredient I mentioned.
The art of making vanilla extract is extremely simple, but very interesting. Combining different types of vanilla beans with various kinds of liquor can create very different flavors and aromas. As I've learned about the different variations, it reminds me of coffees in that some are more full-bodied or bolder than others. And when keeping this on hand using the perpetual method, vanilla extract is like a preserved, fine wine that gets better with time. Super interesting if you want to experiment with it, but keep it simple and just try whatever floats your boat to get started! I like Madagascar/Bourbon.
What is the best type of vanilla bean? (source)

The "best" variety depends on your personal preference in flavor. Madagascar is the most popular type and Indian is a consistent favorite. Each type is slightly different:

Bourbon Vanilla – mild, well-balanced
Madagascar Vanilla – rich and creamy
Mexican Vanilla – bold, dark, smokey
Indian Vanilla – full, chocolate
Tahitian Vanilla – floral, cherry-chocolate
Tonga Vanilla – earthy, fig, raisin
You will need:
Vanilla beans, split lengthwise (about 5 beans per each cup (8oz) of alcohol, so amounts will depend on your container choice; Try these Beanilla brand flavors: Madagascar/Bourbon, Mexican, Tahitian, Tonga, Indian)
Choice of vodka, light rum, bourbon, or brandy (Cheap ingredients = cheap results. I go mid-price instead of college-price. The higher proof, the better…but at least 35% alcohol. Mommypotamus is the queen of which non-GMO brands to buy if you're interested)
Clear glass container that seals tightly, tall preferably (stopper bottles are great, or mason jars. See tips below for another cool idea…)
Time/Patience/Love (free!)
Directions:
1. Use a knife to slice the length of the vanilla beans, stopping an inch before the end so it doesn't truly split in half. No problem if it does, but cleaner extract this way without the vanilla seeds floating in it.
2. Place the beans inside the bottle. You also may need to cut the size of any beans, depending on your container, because you want them fully covered in the next step.
3. Using a funnel if necessary, pour the liquor over the vanilla beans in the bottle until completely immersed. If a bean sticks out, it may get moldy since it's not being preserved.
4. Seal your bottle tightly, shake, and place in a dark, cupboard for at least 6-8 weeks. You can shake again occasionally whenever you think about it. Four months produces the perfect vanilla extract, in my opinion. The alcohol smell will fade as the vanilla is extracted, but you will still smell a slight liquor scent just as you do with store-bought. If it still smells like a cocktail, it's not ready.
How to Use, (perpetually or not):
After at least 6-8 weeks, your vanilla is extracted enough for use as you would store-bought in any recipe (including beauty ones like this orange creamsicle sugar scrub). You can just use it up or give it as a gift, if you'd like. Some people prefer to add some sugar to it, but I don't, so don't know how much to tell you.
The perpetual/continuous method of use? There are two different ways to do this…
1. If you use a tablespoon of your vanilla extract, refill the bottle with a tablespoon of your liquor. Vigorously shake and return to dark cupboard. I prefer this method. I like the idea of keeping the beans covered and having more time to re-extract into a robust body.
2. Wait until your homemade vanilla extract is becoming, maybe, half full, THEN top off with more liquor, shake, and allow to extract again. Some people do this because they have two batches on hand, so that one has time to replenish properly.
** EITHER WAY, you may want to add/replace a vanilla bean or two here or there. Maybe once or twice a year, just to keep subsequent batches fragrant and rich.
Cool Tips:

You could just place split vanilla beans RIGHT INTO the bottle of liquor. How easy is that for finding a container?! This will make a large batch of course, that you could pour into smaller bottles or use as gifts if you wanted. Just remember 4-5 whole vanilla beans per 1 cup or so of liquor, so do the math with the spirit bottle size. Thinking 16-20 total vanilla beans, maybe?
Play around with a flavored vodka or liquor! I want to try a cherry vodka with Tahitian vanilla beans soon…cordial cherries, anyone?!
When you use a fresh vanilla bean in the kitchen sometime, you may as well add it into your homemade vanilla extract and/or…
Take out an old vanilla bean from the vanilla extract after a year or two and use it to infuse your coffee (just throw it in the container where your coffee is kept to flavor it; takes a few weeks for full effect) or make vanilla sugar (in a similar manner)!
This is a sweet little infusion kit that gives you the beans and container to make your own vanilla extract! Just add your own alcohol!
Add a cute label or tag to make a wonderfully thoughtful gift! Start a batch in Autumn to be ready for Christmas. Better yet, just start it now! Gives you an excuse to run to the liquor store…
I wish you could smell this vanilla extract through my blog post! Is there a plug-in or app for that yet? Since not…I do hope you'll start your own batch and discover this simplicity and purity for yourself! Let me know how it goes and what kinds of beans and liquor you used, pleeeeeeease? Talk to me below, it makes my day to know you've visited!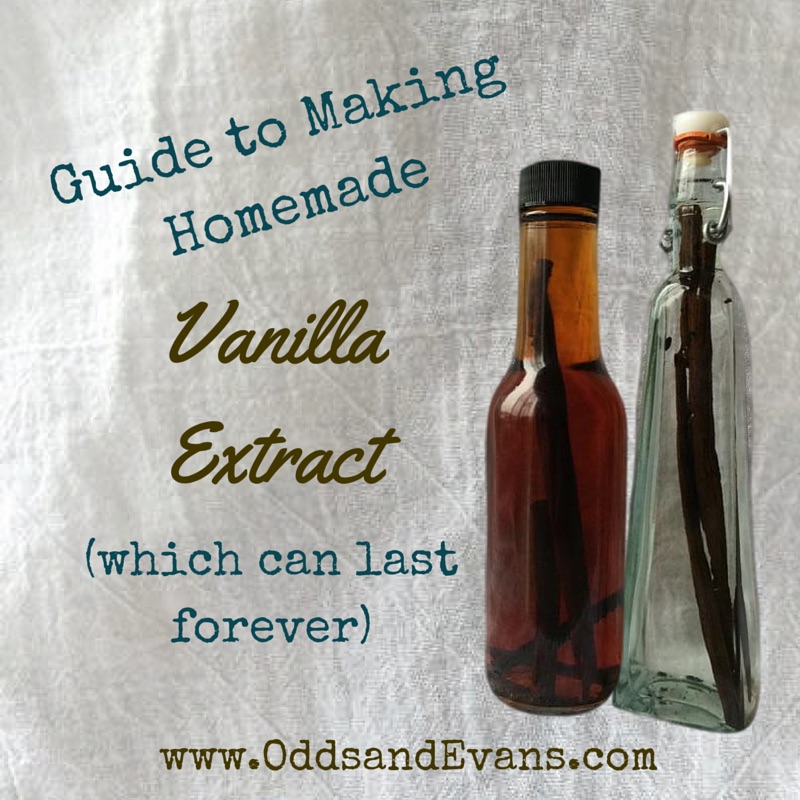 This post also partied at: Inspire Me Mondays Week 12, Manic Monday Blog Hop
This is my necessary disclaimer that this blog is not meant to diagnose, treat, or cure. I am only a mom with an education background. I must let you know that any essential oils statements have not been evaluated by the FDA. I simply approve for myself and family of such things that I deem safe, effective, and positively life-transformative. I encourage you all to be informed and empowered with your health. Also, some of my posts may contain affiliate links. When you click them, you help me to cover a small portion of the cost of this blog. I appreciate your support so that I can continue to do what I love. Please note that I only ever endorse products that are in alignment with Odds & Evans' ideals, my personal use, and those I believe would be of value to my readers.