A Few Things About Me:
1)  Hi, I'm Amanda Evans…or Mandy Evans.  I really ought to pick one of those, but decisions overwhelm me.  So I'll leave that to you.
2)  I also answer to "mommy" for one little boy, and sometimes his awesome dad/my husband calls me that, too.  These two guys are the loves of my life.
3)  My husband, Galen, and I met in middle school, were "high school sweethearts", and married after college.  We've been through it all together, including some big life stuff way before its time.  It's so sappy and cliche, but I truly love that man more and more all the time.  I feel so blessed with my soulmate, but also often guilty about this (which is ridiculous and I'm always working on rewiring my brain with permission of happiness).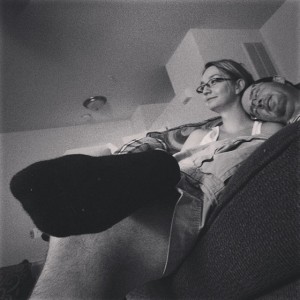 4)  Our little guy is Reece and he is rocking preschool – just a couple mornings a week.  I am "staying at home" with him, although we barely actually stay home.  We think he's awesome and love hearing what he has to say and think these days. He's a handful though!
5)  Technically I work from home?!  I need a more defined answer to the "What do you do?" question, as well.  I'm a Yoga Teacher, Certified Holistic Life Coach, and creator/blogger here at Odds & Evans.  These three outlets combine my passions for wellness, education, creativity, and connection with others.  I teach classes and workshops about a variety of holistic topics, and offer individualized support.
6) I also make random crafts.  Whatever floats my boat.  Right now, I love making diffuser bracelets and dream catchers. I guess this is why DIY or homemade house and beauty products are a lot of fun to me. And baking…it feels like a craft to me.  I oddly don't enjoy "everyday" cooking very much though, but thankfully that's hubby's hobby.
7)  Yoga and essential oils became super important to my personal healing in 2012 after delivering my son.  A complicated birth, recovery, and postpartum period rocked my world in mind, body, and spirit.  I still have setbacks, but I very gratefully recognize how many lotus flowers sprouted up through that deeply muddy experience.
8)  My husband and I are both only children and had hoped for two kids of our own.  Unfortunately after the first go-around, a second child seems more scary an endeavor than we thought so we weren't ready for awhile.  Now that we are ready, it doesn't seem to be in the cards yet.  I feel a lack of closure and uneasy about this status, but also think I'm still subconsciously not letting it happen out of fear.  I guess I hope for another pregnancy and a better birth experience (hopefully VBAC), although adoption "feels" more and more right to explore. So, it's all up in the air and I do hope you'll follow along as a reader when/if it's time!
9)  Before having my son I was an elementary teacher for about five broken years.  I loved my students and experiences during that time, but I wasn't sure I wanted to return to it (and my school closed while I was on sabattical).  Looking back, I can see how my interests into wellness evolved, like the year I was a Chiropractic Assistant.  I'm still very much a teacher at heart, only I had to follow my heart as well and refine who/what/where/how I can educate others and myself.
10) I'm a lifelong learner.  I am not SUPER good at any one thing, but I am KINDA good at multiple things.  I'm an inch deep, and a mile wide.  I'm a learning-junkie.
11)  As well as spirit-junkie.  I would be lost without yoga and meditation.  I enjoyed every moment of receiving my 200-hour RYT yoga training, as well as Reiki 1 attunement.  These are never completed achievements however, merely progressing journeys as life tends to unfold exactly where it should. I aim to enjoy the flow rather than resist. Wheeee!
Well, eleven things is about as ODD as you can get…so I'll stop there for now.  Follow my posts to learn more, or contact me at amanda@oddsandevans.com anytime.