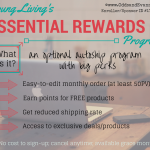 I have a very favorite time of the month. A day when the Fed-Ex man brings a special box right to my doorstep. A package chocked full of wonderful products that I chose – some are old favorites while others may be new for me to explore. This delivery is my Essential Rewards selection!
Essential Rewards (ER) is Young Living's optional monthly autoship program in which you can enroll once you realize you love your oils. It is how I earn points towards FREE oils/products and how I keep my essential oils collection stocked and growing. I edit my order each month to make sure it's exactly what I want and need.
There is no cost for wholesale members to be part of Essential Rewards and it can be cancelled at any time. So not only do you already get discounted prices on everything as a member, you also receive a REDUCED SHIPPING RATE and earn points on everything you order through ER (read: FREE PRODUCT CREDITS). These points accumulate quickly to be redeemed for free essential oils or other Young Living products. The longer you use Essential Rewards, the higher the percentage of points you earn! (I'm saving mine up for Rose Oil…almost there!)
Getting Started with Essential Rewards
This is a program for wholesale members (not customers). If you do not yet have a wholesale account, you can sign up here. You may also upgrade your customer account to a wholesale account by calling customer care. There's no better way to experience the oils for yourself than with this package, hands down.
See more details on Young Living's website by clicking here: Essential Rewards
And as always…ask me anything! I'd love to help you. This stuff makes me weirdly giddy 🙂
Similarly…
Besides collecting those free points/products, each month Young Living offers additional promos to earn free oils (anybody…not just ER orders). You can see here where I blog about my order and freebies each delivery to see what this month's free oil(s) are!

Since I use my oils everyday in various ways on myself, family members, and to make homemade products, I need to keep them on hand. Instead of buying my toothpaste, probiotics, cleaning supplies, or vitamins anywhere else, I simply add them to my ER autoship when I need them. I have to buy them somewhere anyway! I love earning free points on my monthly packages are to maintain my natural wellness cabinet!